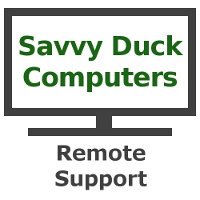 Remote Support and Repair
I try to make my services as convenient as possible for you by offering to drive out to your location in the Eugene-Springfield area. But what if you're on the road, away from home, or even live outside the area, and aren't available for a personal visit? That is why I have announced my remote support services. By downloading and opening a small file, You can give me access to operate and repair your computer from anywhere in the world that has a high-speed internet connection.
What you need:
A computer that starts up - I can't log into it if it will not boot!
An internet connection - Cable, DSL, or Fiber preferred. WiMax and LTE will work, but may present occasional difficulties. Satellite and dial-up are usually not fast enough for me to effectively provide remote services.
Remote support software - Download it below!
It goes without saying that if your repair job requires physical disassembly or replacement of parts, I will not be able to do it remotely. This service is most suitable for
tune-ups
, software installation and repair, clearing errors, driver repair and updates, routine system updates and optimization, and spyware and virus removal where an internet connection is still possible.
Evaluation is free!
If your problem is not one that can be fixed remotely, there will be no charge.
Support Software Download
Windows, Mac, and Linux: TeamViewer
(About 20 MB)
To request this service:
1. Set up an appointment by calling me at
(541) 357-7349
or
e-mailing me at this link.
2. Before the appointment, turn on your computer and make sure it is connected to the internet.
3. Download the above software to an easy-to-access location like your desktop.
4. During the appointment, open up the software by double-clicking on it. No installation is necessary on a PC. On a Mac, follow the simple instructions to install.
5. When prompted, click the Allow button, and I will then have access to control and repair your computer!