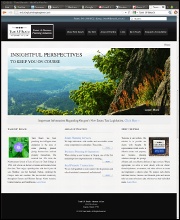 Website Design, Development, and Hosting
Savvy Duck is proud to offer website design and development services through its partner,
Base Conversion LLC
. These professional web solutions are based upon years of experience and tried and tested technologies. From beginning to end, all of your website's needs will be handled with your particular business in mind. You can take advantage of any or all of the following services:
Web Design & Development - Design is an essential component in attracting and keeping users on your website. We provide affordable design for projects of all sizes. We offer web development solutions for both large and small projects. We create PHP applications using the CodeIgniter PHP framework, and are capable of building just about anything!
E-Commerce Solutions - We offer affordable and custom e-commerce solutions for your business. They include inventory management, integrated shopping carts, shipping cost calculators, payment gateway integration, order management solutions, invoice management, and full user account capabilities.
Application Development - Once a website is designed, it is necessary to develop it into a usable application. Web development is a term that describes the process of taking a web design and converting it into a website using code. We integrate a variety of solutions including Expression Engine, WordPress, PyroCMS, Drupal, and Joomla. We also provide custom applications, generally written in PHP frameworks such as CodeIgniter or CakePHP.
Marketing Campaigns - If you are interested in enhancing your website's visibility, driving more traffic to your website, creating powerful lead generation capacity, grabbing more of the market, and becoming a bigger fish in your industry, a marketing campaign is the simplest answer. We offer marketing campaign design and deployment services for businesses of all shapes and sizes.
Website Hosting - We offer robust hosting management backed by sophisticated user controls. When you host with us, you have full control of FTP access, email, and your websites. We view hosting as a critical component of our website management services. Learn more about our hosting solutions by contacting us today!
If you are interested in web design and hosting services for your business, fill out the form below or contact Base Conversion directly at
(541) 255-3277
.