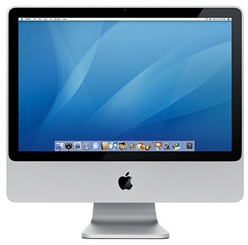 Mac Support and Repair
Apple Macintosh is the preferred brand of computers for many professionals and casual users alike. It is easier for many people to use, and has some advantages in the areas of media production and publishing. Unfortunately, due to Apple's philosophy of keeping the internal workings of a computer behind the scenes, when something goes wrong it can be extremely difficult to fix. That is why I am offering my expertise in the repair and maintenance of Macs and the software they hold. These services include:
Hardware Repair - From broken screens to sticky keyboads to dead batteries and more, I can repair or replace defective components of your laptop or desktop Mac. More details are available on the Maintenance and Repair page.
Software Maintenance - Though Macs tend to be more resistant to software-related performance issues, every so often a mac will mysteriously begin to slow down or display error messages. I will clean out the underlying causes of these problems and get your mac working like brand-new.
Multi-Boot Setup - Does your favorite software not work with the latest version of OS X? Would you like to be able to switch back and forth between the old and the new versions? Or would you like to be able to boot into Windows on your Mac? I can set your Mac up to boot into multiple operating systems on demand.
Networking - Macs have many advanced networking capabilities, but they aren't always easy to set up. I can get your Mac working flawlessly with all of your other networked computers and devices.
I have years of experience with Macintosh computers and would be happy to help with whatever your needs may be.. If you are interested, or would like more information, call me at
(541) 357-7349
or
e-mail me at this link.