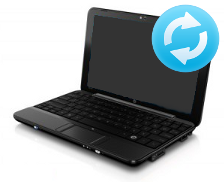 Presenting the
$60
flat-rate computer wipe and reset!
Do you need a fresh start with your computer? Or maybe you are preparing to sell it, donate it, and give it away and need to wipe it and start it off like new. If you don't have your original installation disks (or sometimes even if you do), this can be a surprisingly challenging task. Not only do you have to reinstall your operating system, but it is usually necessary to reinstall each of your system drivers and the software that originally came with your computer. Let Savvy Duck handle that for you and rest easy in the knowledge that it is being done right.
Warning: this service does not include a backup or restoration of your files!
If you need this done, please consider the
Flat-Rate Computer Restoration
service.
This service does include:
A complete zero-wipe of your hard drive so that your personal files cannot be recovered
Reinstallation of Windows, MacOS, or Linux depending on your preference and what your computer requires
Reinstallation of all of your system drivers
Reinstallation of your computer's original software
Let me return your computer to its normal operating condition and you will not be disappointed. Give me a call at
(541) 357-7349
or
e-mail me here
if you would like more information, or if you would like to arrange for this service.

Do you need your files restored after your computer is wiped? The
Flat-Rate Computer Restore
service may be for you! I can completely wipe your computer and then restore your files and important softwareto their original locations.
Click here
for details.