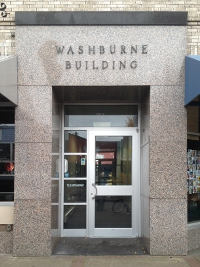 Exterior Door
Drop-Off Repair Servcice
If you don't have the time to have a technician come to your home, or are simply uncomfortable with the idea, I understand! That is why I offer drop-off
repairs
,
upgrades
, and other services at my office in Northwest Eugene.
Please call before arriving!
I am on the road most of the time and will need to schedule a time to come to the office and meet you. While your device is with me, it will be protected by security cameras, an alarm system, and other safety measures. Interested? Simply
contact me
to make an appointment, come to my office (details below) to drop off your computer, and within a day or two I will call you back to arrange to get it back to you. That's it!
What you need to bring:
Your computer - What I mean here is the main box if you have a desktop computer; it's the part that all of the cordes are plugged into. It is not necessary to bring your monitor.
Your power cord (if you have a laptop) - The power cord is not necessary if you're bringing a desktop.
Installation CDs - If you have the original disks that came with your computer, they can often help make the repairs go a little more smoothly and quickly. If your having problems with other particular software that you use, bring the disks for those as they can also help. However if you don't have any disks, don't worry too much; I can usually do just fine without them.
Other problem devices - If one of the devices you plug into your computer is giving you problems, I'll need that as well.
My home office is located in Northwest Eugene, at 4021 N Clarey St. North Clarey is just off of Barger, right at the first light from Highway 99. 4021 is on a cul-de-sac on the right side of the main road. If you have trouble finding it, give me a call at (541) 357-7349 when you arrive and I'll guide you in.
Interested? call me at
(541) 357-7349
or
e-mail me at this link
to get more details or to set up an appointment!