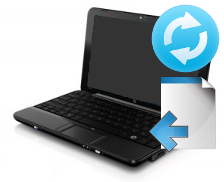 Presenting the
$90
flat-rate computer backup and restore!
Are the bugs on your computer starting to drive you mad? Do you have excessive amounts of unwanted software that just won't go away? This service may be just what you're looking for. The backup and restoration process will completely reset all of your system software while keeping all of your important files in-tact. All of those obnoxious extra programs will be gone, leaving you with a cleaner, faster computer.
This service includes:
Reinstallation of Windows, MacOS, or Linux depending on your preference and what your computer requires
Reinstallation of all of your system drivers
Reinstallation of your computer's original software
Restoration of your personal files
Reinstallation of any free software that you use (iTunes, Adobe Reader, web browsers, etc.)
Reinstallation of any paid software if you provide the original installation disks and key codes
Installation of antivirus and antimalware software to keep you protected in the future
Note that this service does not include reconfiguration of your software, installation or upgrade of new hardware, or any other service not mentioned above. If you need any other services, please see my
general service listing
. Also, a small transportation fee applies if you are outside the Eugene-Springfield area. Please call for details. Let me return your computer to its normal operating condition with all of your files in-tact and you will not be disappointed. Give me a call at
(541) 357-7349
or
e-mail me here
if you would like more information, or if you would like to arrange for this service.

Are you getting rid of your computer? Would you rather wipe your computer without saving your files? The
Flat-Rate Computer Reset
service may be for you! I can completely wipe your computer and restore your original system software.
Click here
for details.