Savvy Duck Reviews: Week Cal iOS App
| | |
| --- | --- |
| | The default calendar app provided on Apple's iOS devices is very intuitive and easy to use. However, it does not provide a very useful graphical view of your upcoming events and reminders on a scale greater than one day. Its default month view provides dots on days where reminders are scheduled, but this is useless for busy professionals who have multiple appointments every day. Week Cal (also known as Week Calendar) from Utilitap attemps to resolve this situation by providing a fully-integrated calendar with graphical views and features that go well above and beyond Apple's basic calendar app. This review will describe these features and provide a measure of how useful they are in daily life. |
Features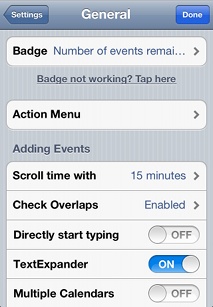 The Settings Screen
Week Cal has an impressive number of features missing from the default calendar, including:
Weekly Schedule View
Two Customizable Monthly Views
Customizable Daily View
Customizable Yearly View
Customizable Agenda View
Full-Screen View
Separate Shading of Weekends, Night, Current Day
Drag-and-Drop Rescheduling
Custom Colors for Events
Advanced Scheduling (such as first thursday of any month)
Custom Icons for Events
Attach Contacts to Events
Customizable Icon Badge
Full Integration with Apple's Calendar App
Operation and Ease-of-Use
I have found Week Cal to be exceptionally intuitive and easy to use, with only a couple of minor caveats. I must admit, my first impression wasn't that great. I opened it and I saw the weekly calendar view, and it was easy to find other views by tapping on the eye-shaped icon, but tapping on the gear icon doesn't bring up much by way of settings. That's the caveat; the rich selection of features aren't intuitive to find. You either need to go into the Week Cal settings through Apple's Settings app (a design choice that I find questionable at best) or tap the
second
settings button at the top of the settings screen inside Week Cal. Once you find the real settings through one of those two methods, however, the amount of features you can enable are almost overwhelming.
You can customize the calendar views, the defaults for new events, and the choices you can make when you bring up the context menu. You can create templates and custom colors for events and default icon placements and on and on and on! I find that the selection of features is so great that I end up using very few of them. However, there is one often-overlooked feature that I find remarkably useful.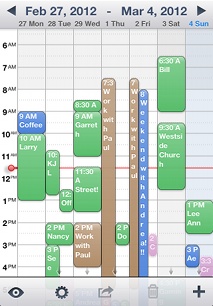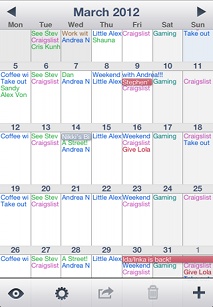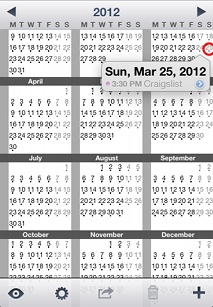 The various views of Week Cal
As you can see by the above images, running an independant computer repair business makes me remarkably busy. I have quite anumber of repeating appointments mixed in with a gaggle of one-time appointments. When I have to reschedule any of these (which I end up doing pretty regularly) it would be an amazing hassle to delete it and recreate it with all of its notes, reminders, and location data. Fortunately, Week Cal has an impressive dragging feature. Just like on the iPhone's home screen, you can tap and hold on any item, drag it around to a new date and time, and drop it where you need it! It even asks whether you want to perform the same action recursively for repeating events. It's a massive time-saver.
Reliability
I find Week Calendar to be extrordinarily rock-solid. In the year that I have been using it, I have not run into one bug, crash, or flaw of any kind. It backs up and restores perfectly with the rest of the device, you can make complex changes to your schedule without a hitch, and if you decide that you don't like it, it integrates perfectly with the iPhone's native calendar so you don't lose your appointments.
Conclusion
Week Cal is a geniously well-designed rock-solid app that I couldn't recommend more to the busy professional. It's advanced features take a little getting used to, but once you have it figured out, flipping it around and doing complex maneuvers takes just seconds. It is well worth the $2 price, and I would even have recommended it at the $7 price it was at when I purchased it. Two thumbs up!
Week Calendar
Appearance:
Features:
Ease-Of-Use:
Reliability:
Overall: