Savvy Duck Reviews
The HP Mini 110 and the ASUS Eee PC 1018P Netbooks Compared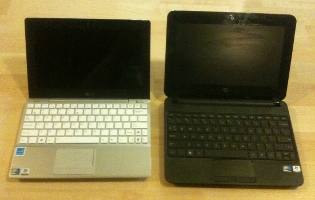 The ASUS Eee PC (left) and the HP Mini (right)
At first glance, this may not appear to be a fair comparison due to the fact that the HP Mini 110 is HP's lower-end netbook and the ASUS Eee PC 1018P is among the top of the line of current Eee PC models (at the time this was written). However, you might be surprised at how nifty features and the occasional design misstep would tend to even these two devices out. Read on for details.
Appearance and Style
Both of these machines have a super slick outward appearance. The HP Mini 110 has a smooth, rounded style with a very cleen feel while the ASUS Eee PC 1018P (specifically, this is model 1018P-PU27-WT) has a more industrial, sleek style with its brushed metal single-piece palm rest and keyboard and its flatter surfaces. One mark against both of these devices is that they have glossy screens that are prone to fingerprints. However, the HP Mini 110 also has a glossy bezel around its screen that is equally prone to collect fingerprints while the EeePC has a textured bezel similar to its palmrest. The HP Mini has smooth outer surfaces that could cause it to slip in your hands if you're not careful, while the EeePC has lightly textured surfaces that make it slightly esier to grip. Ovarall, I would give the Eee PC a slight edge on apperance, but that is highly dependent on your tastes.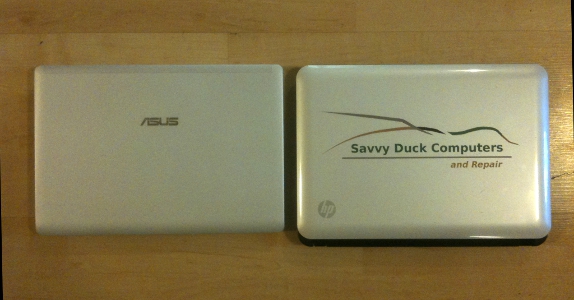 I had the Savvy Duck logo etched on the HP Mini 110 to use it for repair work.
This photo shows the smaller size of the ASUS Eee PC 1018P (on the left).
Technical Specifications
The two netbooks have somewhat similar features, but with a few key differences:
| | | |
| --- | --- | --- |
| | HP Mini 110 | ASUS Eee PC 1018P-PU27-WT |
| Processor | Intel Atom N455 | Intel Atom N550 (1.50GHz) |
| Memory Slots | 1 204-Pin DDR3 SO-DIMM | 1 204-Pin DDR3 SO-DIMM |
| Memory | 1 GB DDR3 | 1 GB DDR3 |
| Max Supported Memory | 2 GB DDR3 | 2 GB DDR3 |
| Hard Drive | 250 GB, 5400 RPM | 250 GB, 5400 RPM |
| Graphics | Intel GMA 3150 | Intel GMA 3150 |
| Wired Network | 10/100 Mbps | 10/100/1000 Mbps |
| Wireless Network | 802.11b/g/n | 802.11b/g/n |
| Bluetooth | None | 3.0 |
| Display | 10.1" | 10.1" |
| Display Resolution | 1024 x 600 | 1024 x 600 |
| Video Output | VGA | VGA |
| Webcam | 0.3 Megapixel | 0.3 Megapixel |
| USB Ports | 3 USB 2.0 ports | 1 USB 2.0 port, 2 USB 3.0 ports |
| Card Reader | MMC/SD/Memory Stick/xD | MMC/SD(SDHC) |
| Battery | 4.5 Hours* | 10 Hours |
| Operating System | Windows 7 Starter | Windows 7 Starter |
| Dimensions | 10.55" x 7.51" x 0.9" | 10.31" x 7.04" x 0.71" x 0.86" |
| Weight | 2.52 lbs | 2.43 lbs |
*The HP Mini 110 model tested for this article differs from the default in that it has an upgraded 9-hour battery.
As you can see, the ASUS Eee PC easily overtakes the HP Mini for features, but that was to be expected because it is a more premium model of netbook.
Ease of Use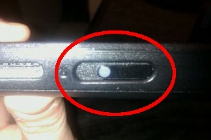 The HP Mini 110's difficult power switch
At first glance, the HP Mini and the ASUS EeePC look very similar. However, even brief usage tells a different tale. The most obvious difference is the power buttons on the two machines. While the EeePC has a standard push button with associated light in the upper right corner of the keyboard, the HP Mini has a funny little switch on the side of the casing near the front. To turn the machine on, you have to awkwardly tug on it with a finger (or fingernail if you're unfortunate enough not to have super skinny fingers). Even worse, if you ever have to force your netbook to shut down, you have to hold the switch in the forward position with a fair amount of pressure, which can be a bit difficult. The switch is difficult to find and difficult to use: a bad design.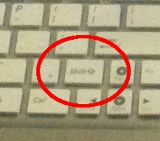 The ASUS Eee PC 1018P's
teeny weeny right shift key
However, that it where the HP Mini's design flaws end and the EeePC's design flaws start. After having put the EeePC through some extended use (and in fact, I used it to write this review) I have to say that I have come to despise its touchpad. While the HP has a three piece touchpad (one piece for the cursor and two buttons), the EeePC single-piece touchpad design tries to be way too fancy for its own good. Not only are the buttons difficult to press (because they're integrated into the rest of the touchpad), but the button area is only very lightly textured, so I find my fingers slipping off and moving the cursor inadvertently while trying to press the buttons.
And the problems don't stop there. I have no complaints about the HP's keyboard, but the ASUS's keyboard is similarly difficult to use. Not only do the keys not seem as sensitive as they should be, causing me to miss letters frequently as I'm typing this, but the right shift key is barely larger than a standard letter key, causing me to miss it constantly. I am not a fan.
Despite the awkward power button on the HP Mini, it definitely gets the win in the ease-of-use category.
Battery
The model of HP Mini tested for this article includes an improved battery over the 4.5-hour default, which is sold with some Mini 110s on the HP website and in retail stores. Due to this, both the HP and the ASUS netbooks tested claim a super-long 9 hour or greater battery life. However, I have only found this claim to be accurate with the HP Mini. I used both of these netbooks for extended periods of time without charging them, and while the HP Mini can run for a very long time, even while watching videos continually, the ASUS Eee PC appears to drain faster than it should while performing tasks as inoccuous as typing a text document. While I confess that I haven't done any scientific testing, I would suspect that the ASUS Eee PC would only provide seven to eight hours of continual battery while the HP Mini would provide the full nine (or more with light usage). I should note that physically, the HP's battery sticks out awkwardly from the back of the device while the ASUS's fits neatly flush into its underside.
Though the default 4.5-hour battery for the HP Mini includes much less capacity than the Eee PC, the improved 9-hour battery tested for this article clearly performs better. Still, the Eee PC's battery is nothing to sneeze at.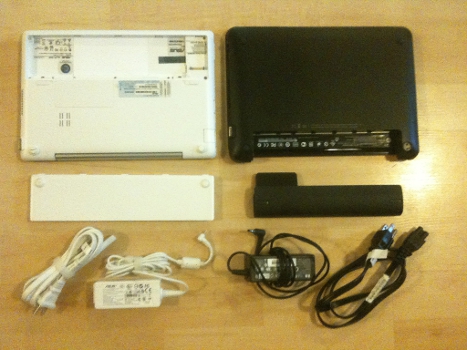 The undersides of both devices (ASUS Eee PC on left, HP Mini on right) with included cables and batteries
Other Notes
One handy feature that I like about the Eee PC is its webcam. Webcams are fairly standard in netbooks these days (both of these netbooks include one), and many come with physical switches to turn them off and on. Not only does the EeePC have this feature, but when you push the switch left, a thin plate of metal phsically blocks the webcam! This is a simple, but extremely handy feature if you are concerned about privacy.
Conclusion
Overall, both devices are speedy little machines considering the limited resources afforded by their included parts. They both have drawbacks too, from the HP's awkward power switch to the ASUS's frustrating touchpad. When selecting between these, I would consider their intended uses. If you are just a casual user who needs a netbook to brows the web and type documents, the HP Mini 110 is easier to use and will suit you quite nicely. However, if you want more advanced capabilities for media manipulation or light gaming, the ASUS Eee PC 1018P is more powerful and definitely your best bet. Overall, I will give each of them four out of five stars.
HP Mini 110
Appearance:
Features:
Ease-Of-Use:
Reliability:
Overall:

ASUS Eee PC 1018P
Appearance:
Features:
Ease-Of-Use:
Reliability:
Overall: